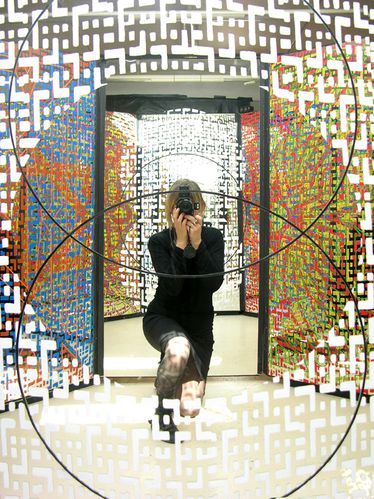 Synesthesie binauraux sounds stereogram frescos.

1/ Description
Mix-media installation. Sculpture of binaural beat sounds and stereogram frescos in synesthesy.
Octogone formed with 8 mirrors (1 meter x 2 meters each) on which have been painted stereograms including different patterns,realised under soundseffects. Binauralbeat sound diffused, among which a succession of non-audible wavetrains (between 19000 Hz and 20000 Hz) and projections of visualisations (mathematical representations of sound, analyser of phase in real time.)

1/ Explanation

The diffusion of binauraux sounds, as well as the visualisation of stereograms, tend to generate an electrical activity of the brain in alpha and theta mode, while stimulating the production of certain neuromediators. Manay studies have showed that this state of modified consciousness lead to the stimulation of certain cognitive functions such as memory, attention, abstract intelligence.
This installation works like an integration tool itself and offers the spectator a infinite space for visual reflection, according to his positioning in the space & time.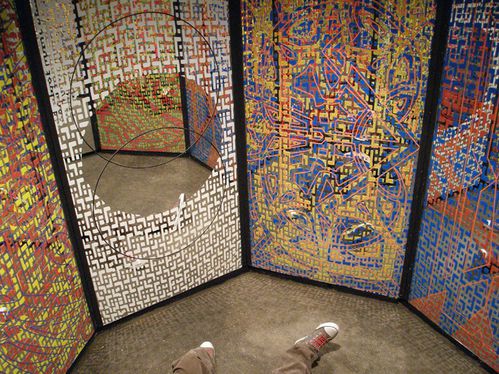 Synesthesie sons binauraux/fresques stereogrammes

1. Description

Installation mix-média. Sculpture de sons binauraux et fresques stéréogrammes en synesthésie.
Octogone formé de 8 miroirs (1x2 mètres chacun) sur lesquels sont peints des stéréogrammes intégrant différents motifs: représentations visuelles en synesthésie avec les sons binauraux diffusés au sein de l'installation.
Diffusion de sons binauraux, dont une serie de trains d'ondes non-audible (situé entre 19000Hz et 20000Hz) et projection de visualisations (représentation mathématique du son, analyseur de phase en temps réel).


2. Explication.

La diffusion de sons binauraux, ainsi que la visualisation de stéréogrammes, tend a provoquer une activité electrique du cerveau en mode alpha & théta, tout en stimulant la production de certains neuromediateurs. De nombreuses études ont démontrées que cet état de conscience modifié entrainait la stimulation de certaines fonctions cognitive, telles que la mémoire, l'attention, l'intelligence abstraite...
Cette installation se met en oeuvre comme un outil d'intégration d'elle-même et offre au spectateur un espace de reflexion visuel infini selon son positionnement dans cet espace.